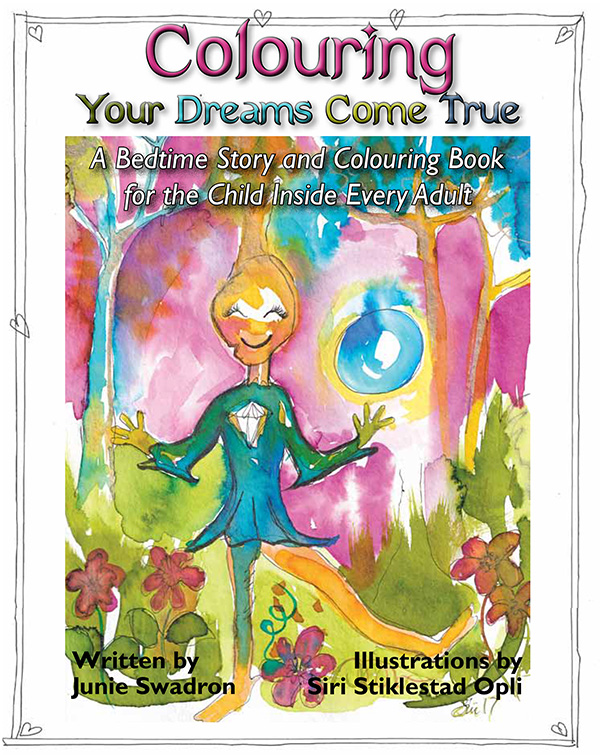 Children are born knowing things that adults have forgotten. They know the Magic of Play.
In Colouring Your Dreams Come True, Jolly-Beam, a Charismatic Being from a land not so far, far away, travels to earth to meet a group of adults and take them to his land so they can experience what it's like to be a child again.
During their time in this magical land, they experience the realization of their deepest dreams and visions.
Afterwards, they are taught Universal Laws that will allow them to create these dreams on earth. This book, besides offering hours of colouring pleasure, is a bedtime story that arouses joy, inspiration wisdom and love that follows the reader deep into Dreamtime.
Junie Swadron is a psychotherapist, author, playwright, international speaker, and writing coach. She mentors writers to become authors, inspiring their voice on the page to become their voice in the world. Junie believes that creative expression is vital for us all. Her goal is to bring awareness of her belief that feeding ourselves, each other and the planet with increasing bundles of joy, kindness, tender love and care should be what matters most.
Siri Stiklestad Opli's passion has always been to paint and draw. Her painting style is very intuitive. Siri embraces colours, floating forms and turning the energy she receives from words into unique paintings. She loves illustrating and she loves words. It is natural that her incredible gift attracts commissions from poets, bloggers and authors from around the globe. If you have words that require imagery, connect with Siri through her website: www.fjellbjorka.no. Siri makes her home in Norway.
Purchase the book.
Also available on Amazon.
After you've read the book, I'd be grateful if you'd leave a comment on Amazon. Thank you!