Books and Plays by Junie Swadron
Colouring Your Dreams Come True: A Bedtime Story and Colouring Book for Children of All Ages and the Child within Every Adult
Children are born knowing things that adults have forgotten. They know the Magic of Play.
In Colouring Your Dreams Come True, Jolly-Beam, a Charismatic Being from a land not so far, far away, travels to earth to meet a group of adults and take them to his land so they can experience what it's like to be a child again. During their time in this magical land, they experience the realization of their deepest dreams and visions. Afterwards, they are taught Universal Laws that will allow them to create these dreams on earth. This book, besides offering hours of colouring pleasure, is a bedtime story that arouses joy, inspiration wisdom and love that follows the reader deep into Dreamtime. Get the book.
Re-Write Your Life: A Transformational Guide to Writing and Healing the Stories of Our Lives
Re-Write Your Life is a unique guided writing experience that empowers you to let go of old resentments, hurts and regrets and make peace with your past so you can rejoice in your life today. This book stands alone, and is also an excellent companion to my Re-Write Your Life online course on DailyOm. Get the book.
Junie Swadron is both a guide and a muse. Her book is a bright lantern, illuminating the often dark and tricky terrain of the soul. Grounded in personal experience, her techniques catalyze the deep authenticity possible to us all.   —Julia Cameron, Author of The Artist's Way
Write Where You Are: A Book for Those who Dream of Writing but Don't Know Where to Begin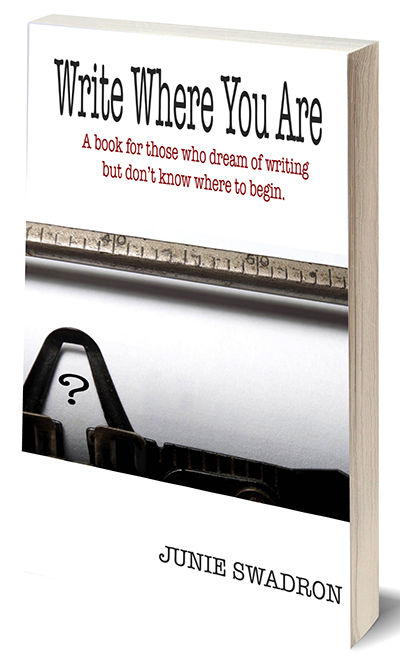 If you really want to write but don't know where to begin, this book is for you!
It offers foolproof and often hilarious solutions to get even the biggest sceptics writing. It's a guidebook that takes away all the fears you have locked in the closet. Purchase the book.
Madness Masks and Miracles: A Play to Help Dispel Myths and Stigmas about Mental Illness
Madness, Masks and Miracles© is about the madness or the dark night of the soul we all go through as we walk our human journey, the masks we wear to hide the madness the sadness, heartbreak or grief lest we be judged and ostracized, and the miracles that allow us to take off our masks and stand tall in all of who we really are. Learn more here.